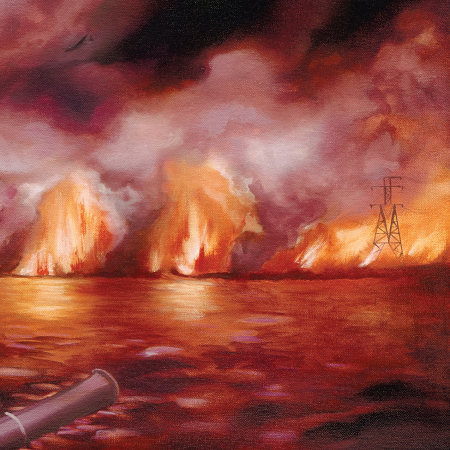 The Besnard Lakes Are The Roaring Night (2010, Jagjaguwar)
J'ai cherché plus longtemps que d'habitude pourquoi ce pays des cieux vivants me plaît autant, au point de systématiquement enclencher sa lecture en boucle jusqu'à ce que mes oreilles en soient bien plus saturées que les guitares. Quel souvenir évoque-t-il ? Quelle émotion fait-il naître ? Quelle partie de mon corps serre-t-il dans ses notes, du coeur, des entrailles ou de la gorge ? Cette quête de sens est restée vaine, pour la raison toute bête que le seul responsable de mon ravissement fébrile était identifié dès la première écoute : c'est le solo de guitare qui lance la deuxième partie du morceau. Ainsi que le subtil décalage de la signature rythmique qui l'accompagne. Et la lente pulsation rock de la batterie et des accords de guitare. Sans oublier le contrepoint de l'orgue. Et bien d'autres choses encore, comme le chant apaisé et la lumineuse énergie d'ensemble qui viennent envelopper l'esprit de leurs vagues tranquilles, assurées et rassérénantes. Ce qui me plaît autant dans cette oeuvre, c'est sa musique, tout simplement.
30 mai 2010
Liverpool (Royaume-Uni), 25 mars 2010.
Auteurs
Textes et musique : Jace Lasek et Olga Goreas.
Paroles
Take a long walk down the countryside
Take a long long time to clear my mind
Living behind these steal bars
Someone strolls along the ocean side

Looking up to the land of living skies
Casting roses through my tear filled eyes
I'm on top of all this countryside
Its far then its me

I'll be sitting on the beach
Thinking I'm a celebrity
Once its great and falls to my knees
Make are mistakes and take them to our graves

I've been taught this boring mountainside
Is far then its me
As I waded into the ocean
Waiting until I get me?
Welcome to the land of the living skies
While I'm downing in the sea
Welcome to the land of living skies
Drowing in a sea of glory

I'll be sitting on the beach
Thinking your a celebrity
Once its great and falls to my knees
Make are mistakes and take them to our graves

They showed you the room where you stay
Cold walls of concrete and clay
Through one tiny window you see
Armys of soldiers in green
All for you

After the smokes blown away
Troops with dark horses at bay
As far as your eyes can see
Millions of men on one knee
All for you
All for you