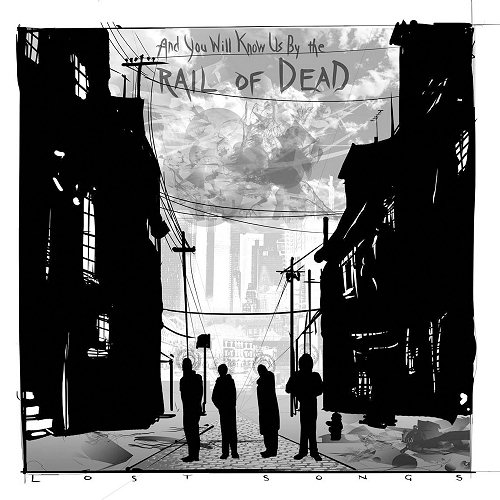 2012, Superball Music
M'obliger à chercher la signification de « catatonique » dans le dico... J'te jure ! Cela dit, soyons honnêtes : et d'un, ce n'est pas tous les jours que le gros rock qui tâche amène à enrichir son vocabulaire ; et de deux, il se trouve que l'adjectif en question sied assez aux passages les plus dingues de vitesse, de bruit et de fureur qu'affectionne And You Will Know Us By The Trail Of Dead (1). Comme je cherchais précisément les synonymes et nuances qui pourraient se substituer de manière bienséante à « quel raffut ! », voilà qui tombe plutôt bien. À vrai dire, j'ignorais totalement dans quelle catégorie évoluaient ces Texans énervés, que je m'étais juré d'écouter après avoir repéré leur nom (sombre), cette pochette (sombre aussi) et le titre de l'album (possiblement sombre). Me voici donc fixé, à en prendre plein les oreilles. Mais aussi à découvrir, au milieu du boucan, des passages qui me parlent plus directement : le riff, les roulements et l'harmonie du couplet instrumental d'A Place To Rest (oui, ils ont aussi le sens de l'humour) ; la respiration soudainement reposante de Pinhole Cameras ; et surtout la cassure brusquement mélancolique, suivie d'une reprise toute en tristesse et colère mêlées d'Up To Infinity.
30 novembre 2014
(1) Leur véritable nom, dont l'origine demeure mystérieuse, commence par trois points de suspension, comme s'il s'agissait d'une citation.
Paris (France), 17 avril 2013.
Vidéo éditée par philsonique.
Chansons de l'album
Open Doors
Pinhole Cameras
Up To Infinity
Opera Obscura
Lost Songs
Flower Card Games
A Place To Rest
Heart Of Wires
Catatonic
Awestruck
Bright Young Things
Time And Again
Crédits
Musiciens
And You Will Know Us By The Trail Of Dead est Autry Fullbright (basse, guitare sur 9), Conrad Keely (chant, guitare, claviers), Jamie Miller (guitare, batterie) et Jason Reese (chant, guitare, batterie sur 4 et 5).
Auteurs
Écrit et composé par And You Will Know Us By The Trail Of Dead.
Production
Produit par And You Will Know Us By The Trail Of Dead et Chris « Frenchie » Smith.
Enregistré par Chris Smith et Mirko Hofmann aux studios Horus Sound à Hanovre (Allemagne).
Mixé par Chris Smith et Sean Rolie au studio The Bubble à Austin (Texas, États-Unis).
Mastérisé par Heba Kadry au studio The Lodge à New York (New York, États-Unis).
Management par Andy Farrow avec l'assistance de Marc Schapiro.
Pochette
Conrad Keely et Dean Hsieh (conception) / David Kosta (illustration).
Parution et label
2012, Superball Music.